Medical education
Çapa Medical Faculty, İstanbul
Fields of interest
Psoriasis, Rheumatism, Beauty
Certifications
Psoriasis Solidarity Association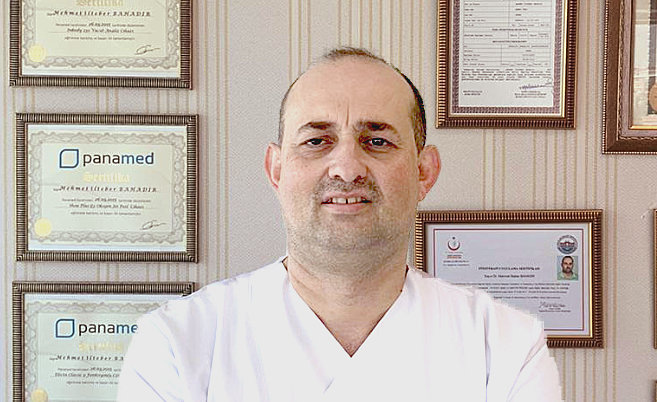 Who is Dr. Mehmet İlteber Bahadır?
He was born in 1971 in Antalya. He completed his primary and secondary education at Barbaros Primary School (Antalya) and Antalya Anatolian High School, respectively. He studied at Istanbul University Faculty of Medicine between 1989-1996. He attended Ministry of Health trainings on Mesotherapy and Ozone Therapy. He served in the foundation of children with leukemia and 112 emergency services. He worked as a doctor in many private hospitals.
He is among the physicians who helped establish phytotherapy in Turkey in 2009 and pioneered it at this point. Between 2009 and 2014, he was responsible for the R&D and production department of Turkey's most respected Herbal Food Supplement company. During the period, he made many overseas visits, especially to China and Far East countries, in order to improve his work. He was among the first physicians to receive Phytotherapy Certificate issued by the Ministry of Health in Turkey. He has conversations on phytotherapy and psoriasis by participating in health programs on national and local TV channels. 
He has been serving in his clinic for approximately 11 years for patients who have ruptured upper skin such as psoriasis, chronic eczema, lichen planus, and ichthyosis. During this time, he applied treatment, skin ozonation and skin care programs to many of his patients. The most important feature of these applications is that they do not use any chemical or biological agents and have no side effects. All patients are checked in 4-month periods for 2 years and the treatment is never terminated before the skin is completely clean. Those who cannot come update their status with pictures. 
The clinic is one of the leading treatment and follow-up centers for patients such as psoriasis, chronic eczema, lichen planus and ichthyosis in our country and in the world. Patients come from European countries, especially England, Germany, Bulgaria, Asian countries such as Azerbaijan, Korea, and Arab countries such as Iraq, Syria, Kuwait, Qatar, Dubai. He has been the guest of nearly 100 health programs and the main news bulletins of the country's most respected TV channels. He has many medical articles.
While specialist assistants provide remote support to patients during the pandemic, the doctor personally deals with each new patient and his/her special file. 
Thanks to the personalized treatments of our esteemed doctor, Mr. Bahadır, thousands of patients from all over the world are regaining their healthy lives today.
Diplomas and Certificates